The Company
MRP Automatisierungstechnik
MRP introduces itself
We would like to take this opportunity to introduce ourselves as your partner for all automation tasks in the production and further processing of web-shaped products. MRP Automatisierungstechnik GmbH primarily supports all producers of the paper and the synthetic industry. Our company headquarters are based in Polch, located in central Germany. Our customers are located across the whole of Europe, however, primarily in Germany.
As a company, we focus on the development, production and sales & marketing of quality control systems for all producers of the paper and the synthetic industry. We have high standards for our own services. Motivation and continuous improvement form the basis of our corporate success.
We, the MRP Automation Technology GmbH rely on the long-term, successful collaborative partnership with our customers. Quality is when the customer returns and not the product. As an MRPcustomer, this allows you to again focus on what you do best: Your core business.
As our company name implies, our products comprise Measuring, Regulating, Testing and Au-tomation Devices, which considerably facilitates and optimises production processes. In addition, the MRPproducts enhance quality improvement whilst reducing raw material resources during the production process.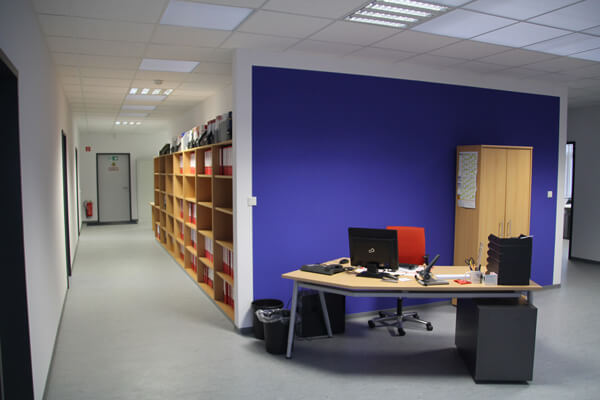 MRP Automatisierungstechnik GmbH with headquarters in Mayen was founded on November 1st, 2002 by Dipl. Ing. (FH) Markus Pleinen. Since completing his studies, Mr. Pleinen was an engineer and project manager for many years at Protagon Automatisierungstechnik GmbH and IVT AG. His field of responsibility essentially comprised the project planning as well as the customer-specific development in the hardware and software segment for the quality control systems developed and produced in that area.
Since April 1st, 2003, Dipl. Ing. (FH) Manfred Reusch is also a member of the senior management of  MRP Automatisierungstechnik GmbH. He has taken over 50% of Mr. Pleinen's company shares.
For many years, Mr. Reusch worked as a development engineer in the development department at Paul Lippke GmbH & Co KG in Neuwied, Germany before he founded the Protagon Automatis-ierungstechnik GmbH in 1993 together with a former partner. Consequently, MRP Automatisierungstechnik GmbH has more than 35 years of experience in the field of measuring, regulating and testing devices related to the production of web-shaped products.
The MRP team has expanded over the last few years to include a doctorate physicist and several graduate engineers from the Koblenz University of Applied Sciences. Since the premises in Mayen-Alzheim became too small, the new construction of office, production and storage buildings in Polch commenced in November 2013. After just seven months of construction, we were able to move into the new office, production and storage building in June 2014.
From the start of planning, the goal was to create an appealing and functional ambience for our customers and for our team. We would like to take this opportunity to thank all the companies involved in the construc-tion as well as the positive feedback from our customers and business partners.
MRP utilises its partnerships to complement its own competences and resources with qualified products and services. By utilising our MRPpartners, we extend our range of services to the benefit of our manufacturing customers in the paper, cardboard and synthetics industry whilst strengthening our position in test and automation technology. Together, the partners are able to deliver integrated systems including drive technology that meet the complete range of requirements of modern process control systems.
The close cooperation with Betzer Automatisierungstechnik in the areas of installation, commissioning, maintenance and service make this experience complete.
A close partnership with KRIKO Engineering GmbH from Merz Hausen near Freiburg im Breisgau, Germany, is maintained since 2004. In addition to sales synergies, this cooperation focuses on the mutual tech-nical complementation. KRIKO delivers and integrates the 'Kriss' alarm, trend and notification system into the MRP quality control systems.
The most recent partnership was established with Schnettler Technologies. The managing directors of both companies have known each other for decades and have loosely cooperated in the past. This cooperation shall be intensified by the joint development of an automated test line, which shall also establish a third pil-lar of operations for MRP in addition to the QLS-systems and the web inspection systems. The strategic goal of MRP is to increase the turnover per customer by continuously selling added value offerings for the plants of its known customers.
In collaboration with Betzer Automatisierungstechnik, KRIKO Engineering and Schnettler Technologies, the MRP Team ensures that you can concentrate on your core business.